calvin's logo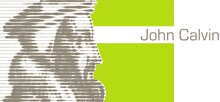 Color, rgb, small
Color, cmyk, small
Color, cmyk, large
Greyscale, small
Greyscale, large
---
logo of the year calvin09
Color, cmyk, small
Color, cmyk, large
Greyscale, small
Greyscale, large
calvin actio: see
Calvin Congregational Study Pak

The Box includes:

Five copies of John Calvin: Reformer for the 21st Century by William Stacy Johnson
One DVD His Life & Legacy 60-minute DVD
One copy of Calvin Looks Forward by Kelly Rider
Further Information
---
calvin09 miniexpo: Blessed Calvin!


To mark the calvin09 Jubilee, acquaint your parish with this "Blessed Calvin!", the excellent chance to visit the mini-exhibition made up of 20 thematic small posters which will unfold the 500 years of the influence of the great Reformer for them.
Visit the miniexpo
---

Interactive exhibition
French churches abroad – Calvin understood and misunderstood.
view
---
Calvin postage stamps from all over the world

One man - many stamps. Stamps in honour of Calvin have been issued in a number of countries, which are now bearing the Reformer's image all over the world from door to door. You will find a list of these stamps here.
View stamps
---
John Calvin: His Life and Legacy
Witherspoon Press

In celebration of Calvin's birthday, Witherspoon Press and the Theology Worship and Education ministry of the Presbyterian Church (U.S.A.) present a DVD on the life and legacy of John Calvin.
watch the trailer
order the DVD
---
Jean Calvin – To God alone the glory
Konrad Schmid

60 min DVD, SCM Hänssler
A comprehensive biographical portrait of the life, faith and activity of this important Reformer.
watch trailer
order DVD
---
Jean Calvin: Un portrait sensible
Caroline Reussner

138 min DVD, Méromedia
This DVD contains:
Caroline Reussner's film, distributed by Présence Protestante – France 2 (58 minutes)
Further information: 12 key words for getting to know the Reformer and his work (80 minutes): Vocation, Providence, Double Predestination, Transcendence, the Bible, Reformer, Politics, Geneva, Michael Servetus, France, Writer, Freedom.
take a look (wmv)
take a look (rm)
order the dvd
---
A walking guide

Geneva was and is Calvin's city. For more than twenty years of his life Jean Calvin worked as a reformer of the city republic. Today many places in the city still bear witness to Calvin's activity.
You can discover the stages of Calvin's Reformation in Geneva here.
(c) 2010 | Federation of Swiss Protestant Churches SEK-FEPS | World Communion of Reformed Churches WCRC | Impressum | Web: Büro+Webdesign